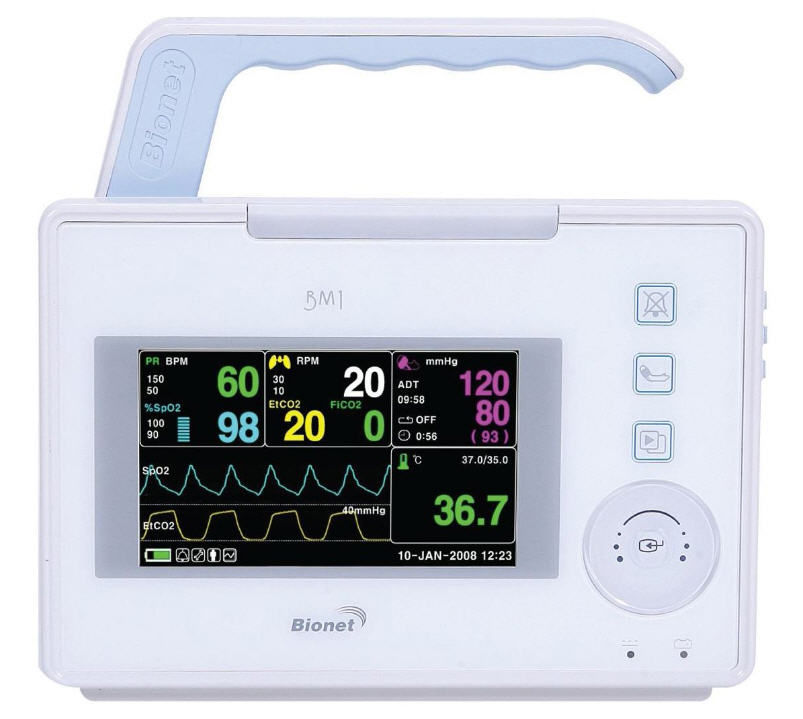 Bluetooth Enabled for Real Time Display on your Computer!
Compact and lightweight, the BM1Vet is the ideal portable. It features SpO2, NIBP, with optional temperature and EtCO2 with 4.3″ color TFT LCD in a compact package that weighs less than 2.5lbs!
EtCO2 ready (plug & play) so CAPNOSTAT® 5 Mainstream or LoFlo™ Side stream CO2 sensor can be added at any time. As with all Bionet veterinary monitors, it comes with a 4 Year Warranty, the longest in the industry, as well as a direct computer interface!
Standard Accessories
SpO2 cable and NiBP hose and cuff set.
Additional Accessories
CAPNOSTAT® 5 Mainstream CO2 Sensor by Respironics & Airway Adapters
LoFlo™ Side stream CO2 Sensor by Respironics & Airway Adapters
Temperature Probe(Rectal or Skin)
SpO2 Sensor (Rectal)
Features
4 YEAR WARRANTY (6 months on accessories)
DVM Solutions proudly stands by the quality of every product we sell with a 15 day satisfaction guarantee. Call toll free (866)373-9627 for any additional information.
Superior Advantages
SpO2, NIBP, Temperature and EtCO2
EtCO2 Ready: can add plug and play mainstream or side stream EtCO2 at any time
4.3″ color TFT LCD and capable of connecting to an external monitor
Individual sweep speed setting for each parameter
Multiple display modes
Remembers your settings
Up to 4.5 hours of battery life
Quick release IV pole mount
Touch wheel navigation
128 hours of trend data stored
20 cases – 10 second alarm waveforms are stored
Includes B-Link Software to transfer results to your Windows based computer
Industry's longest warranty – 4 Years!
Extendible Parameters
Can add EtCO2 at any time
Mainstream/Side stream CO2
Temperature
Enhanced Data Management
120 full hours of trend data are stored
20 cases – 10 second alarm waveform are stored
Includes B-Link software for data collection
Files for this Product
There are no available files for this product.