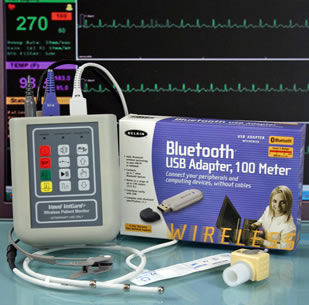 Blood Pressure Technology
Multi-parameter wireless surgical monitor…a step closer to the paperless practice
Weighing only 19 ounces, the PC-VetGard is sold with all the cables and sensors required to monitor ECG, SpO2, respiration and temperature in surgery; leg clips and the unique ECG chest probe for exam room applications, and a cable and leads for long-term monitoring in recovery and intensive care. Patient records and vital signs documentation are recorded automatically. The PC-VetGard is great for surgery, routine exams or critical care telemetry monitoring.
Vmed monitors can now be shipped with an optional Windows tablet or laptop for mobile display. Software and Bluetooth are pre-installed and ready to go.
ECG Interpretation software is now included
Vmed wireless monitors now integrate with AVImark®.
Read the article, "Bluetooth Stops Spaghetti Syndrome" in Veterinary Practice News by Dr. Don DeForge.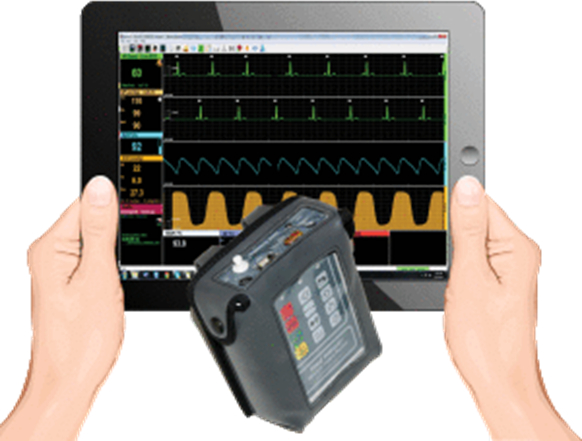 Go wireless…Go Digital. Bluetooth is highly tolerant of interference and is omni-directional to a range of 100 meters, line of sight. Save space, eliminate cables, and store files automatically. Monitor up to seven patients on one computer. Files may be recalled for ECG and CO2 waveform analysis, transmitted by email, or printed in a concise report.
Versatile...Use in surgery, recovery or for exams
Reliable...Free of interference and electrical noise
Scalable...Add monitoring options at any time
Choose your monitoring parameters now and upgrade at any time
Print Reports
See sample surgery waveform report (File currently located here)
See sample vital signs report (File currently located here)
Features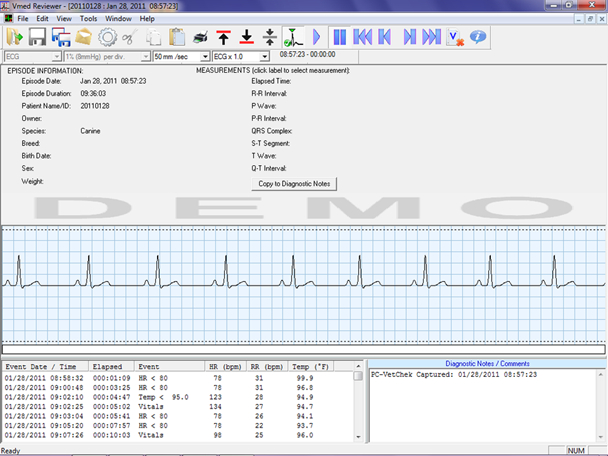 Palm sized for maximum portability
Compatible with Windows XP (SP2) through Windows 10
No wires or cables to your computer
Rechargeable Li-Ion battery for over eight hours of use.
Track heart rate to 800 beats/min
Programmable alarms
Automatically save waveforms and vital signs to file for later review
Omnidirectional and virtually interference-free wireless connection
Print reports on plain paper from your computer
Trend graph
Free software upgrades for the life of the product
Files for this Product