Routine Checkups
Diagnostics
Anesthesia monitoring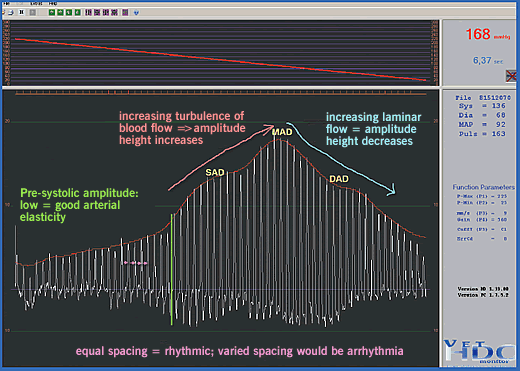 Significantly Improved BP Monitoring
Fast processors (32 bit)
Visible real-time measurements
High definition sensors
Totally new algorithm developed for animals
Valve programming towards a linearity over the entire pressure range (accurate 5300mmHG)
Fast and dependable measurements of the blood pressure (SysD, DiaD,MAP) and the pulse rate (up to 500 bpm) in around 10 seconds.
Real Time Visualization Software
USB connectivity
Real Time Operations
The HDO Vet BP Monitor allows for real-time scanning of pulse waves. This new approach to blood pressure measurement relies on High Definition Oscillometry. This real time visualization of pulse waves can be viewed on screen when the unit is linked to a PC or stored for future analysis. Multiple measurement data and related average value display can be stored on files. This enables posterior local or remote evaluation of the data.
32 bit technology allows for a specific programming of the valve over a pressure range of 5 to 450 mmHg which achieves an optimization of the signal identification with
Real time scanning
Real time regulation of the valve and
Real time analysis of the measurements taken
The main important parameters for accurate readings - linearity and speed - are ensured ONLY by HDO technology.
Files for this Product
There are no available files for this product.