On The Go, Wherever You Are!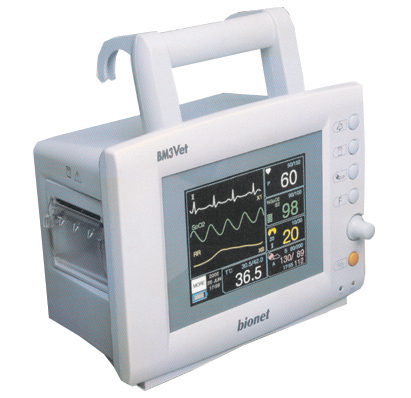 Versatile, portable, and lightweight, the BM3Vet Next monitor is specially designed to be used in a veterinary environment. Compact design coupled with a unique handle make it easy to move from room to room. Its 7″ wide screen color monitor displays all the vital signs in different colors for easy recognition. A built in printer offers hard copy documentation of all measured values as well as up to 3 waveforms of information. Alarms and settings are easily adjustable and are retained after turning off the power.
Standard Accessories:
BM3Vet Next Main Unit, 3 Lead or Optional 5 Lead ECG Cable(Alligator Type), ECG Extension Cable, SpO2 Sensor and Extension Cable, NIBP Child Cuff, NIBP Extension Tube, NIBP Neonate Cuffs(x5), Chart Paper(x2), Power Adaptor & Power Cord, Operation Manual and a 4 Year Warranty Card.
BM3Vet Next is a replacement and enhanced successor for both BM3Vet and BM3Vet Plus. BM3Vet & BM3Vet Plus are now discontinued.
Additional Accessories
CAPNOSTAT® 5 Mainstream CO2 Sensor by Respironics & Airway Adapters, LoFlo Side stream CO2 Sensor by Respironics & Airway Adapters, 5 Lead Vet ECG Cable, Temperature Probe (Skin), Temperature Probe (Rectal), SpO2 Sensor (Rectal), Esophageal Probe with 3-lead ECG and Temperature- Medium Size
DVM Solutions proudly stands by the quality of every product we sell with a 15 day satisfaction guarantee. Call toll free (866)373-9627 for any additional information.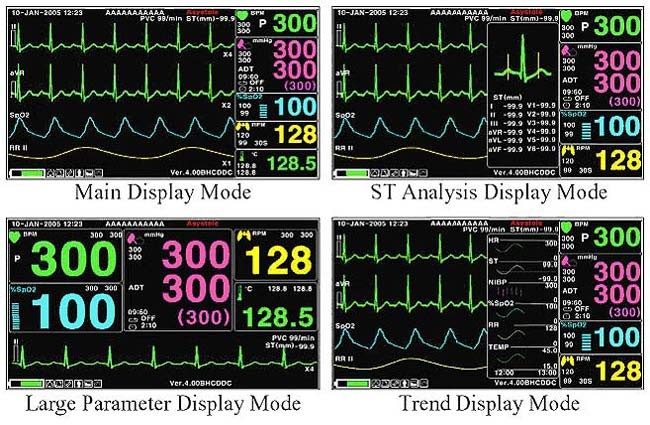 Features
4 YEAR WARRANTY (6 months on accessories)
Superior Advantages
ECG, SpO2, NIBP, respiration and temperature
7″ high resolution wide screen monitor
Individual sweep speed setting for each parameter
Multiple display modes
Remembers your settings
Includes B-Link Software to transfer results to your Windows based computer
Industry's longest warranty – 4 Years!
Add mainstream or side stream EtCO2 at any time!
Enhanced Data Management
120 full hours of trend data are stored
20 cases – 10 second alarm waveform are stored
Includes B-Link software for data collection
High-Performance Measurement
ST level, PVC count real-time display
Very low-perfusion SpO2 measurement
Transportable
Li-ion rechargeable battery allows cordless use for up to 2 hours
Files for this Product
There are no available files for this product.