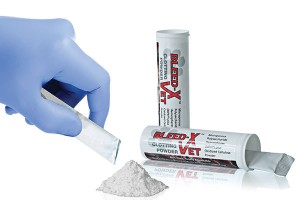 Clinically proven to minimize risk of granuloma, infection, or foreign body reaction!
Bleed-X Vet Hemostatic Powder originates from over a decade of research and clinical use in the human market. Since 2001, Medafor's patented Microporous Polysaccharide Hemosphere (MPH) technology has been saving lives in both humans and animals- clinically proven to be a superior method to control surgical and topical hemorrhage in over 2 million human applications.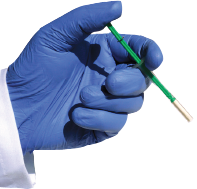 Bleed-X Vet is indicated in surgical, dental and topical procedures as an adjunctive hemostatic device to assist when control of capillary, venous and arteriolar bleeding by pressure, ligature and other conventional means are ineffective or impractical. Bleed-X is made from two well-known hemostatic components: MPH combined with Oxidized Cellulos (OC)micro-fibers which together act to rapidly dehydrate blood and concentrate clotting proteins, red blood cells, and platelets to promote rapid gel formation which accelerates the natural clotting cascade with no inherent risk of adverse events.
Bleed-X Vet is Safe. The powder can be applied in a sterile manner and once the clot has formed, the MPH/OC matrix is quickly degraded by endogenous amylase and pyrase, leaving no substance to act as a nidus for infection or adhesion formation, virtually eliminating any chance of granulomas.
Clinical Studies
MPH®, Microporous Polysaccharide Hemospheres, is the primary hemostatic agent in Bleed-X Vet Hemostatic Powder. The effectiveness of MPH as a clotting-aid is well documented. Over 2 million successful outcomes in human surgical and trauma procedures.
MPH® Mode of Action Animation
Bleed-X® Vet Clotting Powder Used in Surgical Procedure
Files for this Product
There are no available files for this product.