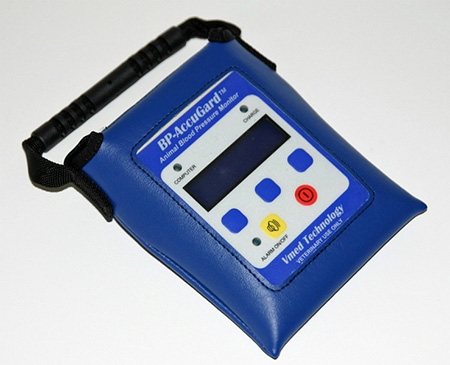 Includes built-in display and optional Bluetooth computer link!
Vmed uses SunTech Medical Advantage Vet Software which performed significantly better and with less variability than Cardell and Critikon Dinamap monitors on awake and anesthetized cats when compared to the Doppler reference in a controlled study at the North Carolina Stale University College of Veterinary Medicine . Performance on awake and anesthetized dogs was comparable for all three monitors.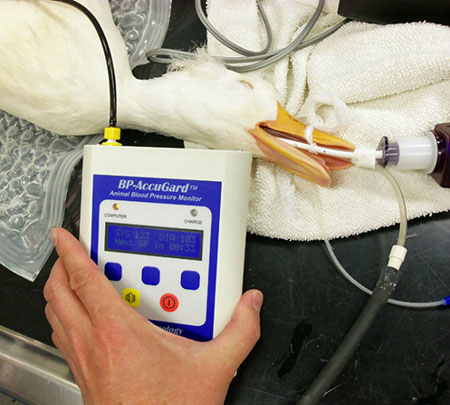 DVM Solutions proudly stands by the quality of every product we sell with a 15 day satisfaction guarantee. Call toll free (866)373-9627 for any additional information.
BP-AccuGard is a digital oscillometric blood pressure monitor optimized for small animals. Oscillometric devices measure the oscillation of the vessel wall as the cuff is deflated. The BP- AccuGard uses sophisticated algorithms to calculate the blood pressure measurements from these oscillations based on the pressure in the cuff. While all oscillometric devices have limitations, especially with patient movement and the relatively small size of arteries in small animals, the BP-AccuGard software is successful in significantly reducing motion artifacts, resulting in fast, accurate measurements. Accurate measurements have been obtained on patients as small as 1.5 kg under anesthesia. Includes manual and automatic modes for diagnostic and surgical applications. In manual mode the measurement cycle is started each time a measurement is desired. Automatic mode allows repeat measurements taken at user defined intervals. Motion tolerant software reduces the compute time for awake animals without compromising accuracy. BP-AccuGard offers superior, animal validated, motion tolerant technology for fast, accurate measurements in animals as small as 1.5 kg. Measure systolic, diastolic, MAP and heart rate and with a single key stroke, automatically calculate mean measurements over several readings for best accuracy. Use as a stand-alone blood pressure monitor or include the optional PC-Display software and Bluetooth wireless link to display measurements, real-time blood pressure waveforms and a trend graph on your computer screen. PC-Display software stores all measurements for the surgical or diagnostic record. When used in the automatic mode and in conjunction with the PC-Display software, measurements are saved to file for a record of pressures through the procedure. Files saved to the computer can be attached to patient records in most practice management programs. Reports can be printed from your computer or network printer or automatically attached to an E-mail message.
Applications
Use in manual mode to screen for hypertension in the exam room.
Record BP routinely for patients where hypertension is secondary to disease and for all patients with visual problems and all critically ill patients.
Use in automatic mode for surgery.
Select specific measurement cycles and alarm limits for systolic, diastolic, MAP and heart rate. Alarms can be easily silenced by pressing the silence alarm button.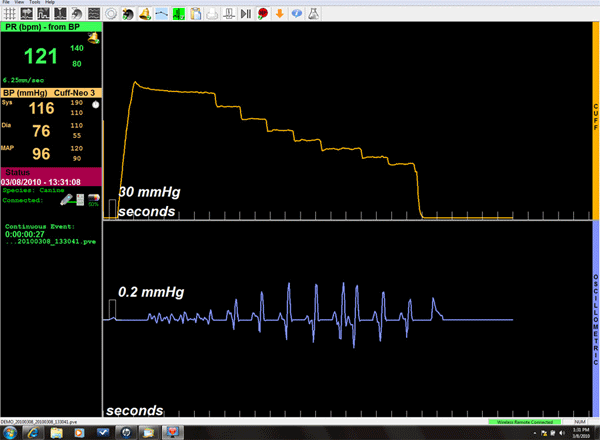 Bluetooth Computer Link
The optional Bluetooth hardware and PC-Display software provide a wireless connection between the AccuGard and your computer allowing the computer to function as a convenient patient monitor. The computer displays digital measurements as well as waveforms for the measurement cycle, pressure oscillations and a trend graph. Measurements appear simultaneously on the AccuGard. Bluetooth signals are omnidirectional and operate free of signal interference in the clinic. Range is reduced when transmission is through walls or between floors.
Features
Designed for veterinarians for manual and automatic calculation of systolic, diastolic, mean arterial pressures and heart rate in small animals
Compatible with Windows 7, Vista and XP
Easy setup and use
Easy cuff size selection
Programmable settings
Selectable alarms with quick alarm silencing button
Automatic calculation of mean measurements
Motion tolerant and small animal validated software
Use with or without computer display
Rechargeable lithium-ion battery with 18 hours between charges
Two year parts and labor limited warranty
Included Accessories
Six cuffs with convenient limb circumference gauge for kittens to large breed dogs
4′ airline
100-240 VAC, 50/60 Hz charger
Storage pouch
Optional Bluetooth USB device
Optional PC-Display software
Windows XP (Service Pack 2 or 3 highly recommended):
CPU: Minimum 1GHz
MEMORY: Minimum 1 GB (for 1-2 concurrent monitoring sessions)
VIDEO: Minimum 64 MB Graphics Memory
VIDEO RESOLUTION: Minimum 800×600 (1024×768 or higher recommended)
PORTS: Spare USB 1.1 or higher (for Bluetooth USB Adapter, unless computer has built-in Bluetooth)
Windows Vista or Windows 7:
CPU: Minimum 1 GHz
MEMORY: Minimum 1.5 GB (for 1-2 concurrent monitoring sessions)
VIDEO: Minimum 128 MB Graphics memory
VIDEO RESOLUTION: Minimum 1024×768
PORTS: Spare USB (for Bluetooth USB Adapter, unless computer has built-in Bluetooth)
Both 32-bit and 64-bit versions of Windows Vista and 7 are acceptable.
Files for this Product
There are no available files for this product.