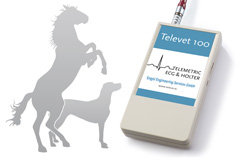 Convenient ECG recordings at rest as well as during exercise!
With traditional ECG systems the veterinary surgeon has been limited to obtaining a resting ECG. With the development of Televet® the veterinary surgeon is able to monitor the animal during its normal daily activities. This allows the detection of cardiac rhythm abnormalities which may only occur during exercise or at rest.
The Televet 100 provides telemetric two channel (3 / 6 vector) ECG recording. It was developed to be used both in small and large animals. The Televet 100 conveniently allows excellent quality ECG recordings both at rest as well as during exercise.
In telemetric mode the Televet 100 transmits data in real-time. The ECG is displayed on a laptop or PC and it is stored on the hard disk. In Holter mode, data is stored on a standard SD-Card which is plugged into the ECG device for up to 30 hours. A telemetric connection to host PC or notebook is not required in this mode. Telemetric mode and Holter mode can be used in parallel, this ensures that an ECG is always recorded.
The system includes software which enables ECG recordings to be reviewed at any time, printed or e-mailed for a second opinion.
Holter Option
Record the ECG when the animal is in its common environment.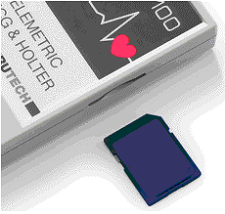 More than 24 hours of ECG data can be recorded and stored to a SD-card and later transmitted to the PC
In parallel the ECG signal can be transmitted to a laptop or PC by Bluetooth wireless technology
the ECG trace can be displayed "live" on the PC screen during the animals normal daily activities
the ECG trace can be recorded to the hard disk of the PC or laptop
Manual analysis of large ECG files is time consuming and error prone. Analysis Software for Human medicine often inappropriate for small animals
Televet 100 Holter-Analysis was specially developed for small animals
It significantly reduce time and effort for an ECG Holter analysis. This was achieved by a semi-automatic classification approach
Holter-Analysis applied to a long-term ECG for classification of beats by Morphology: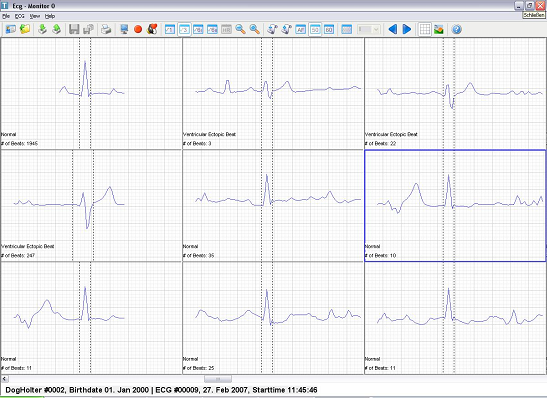 Example Report created by Holter Analysis: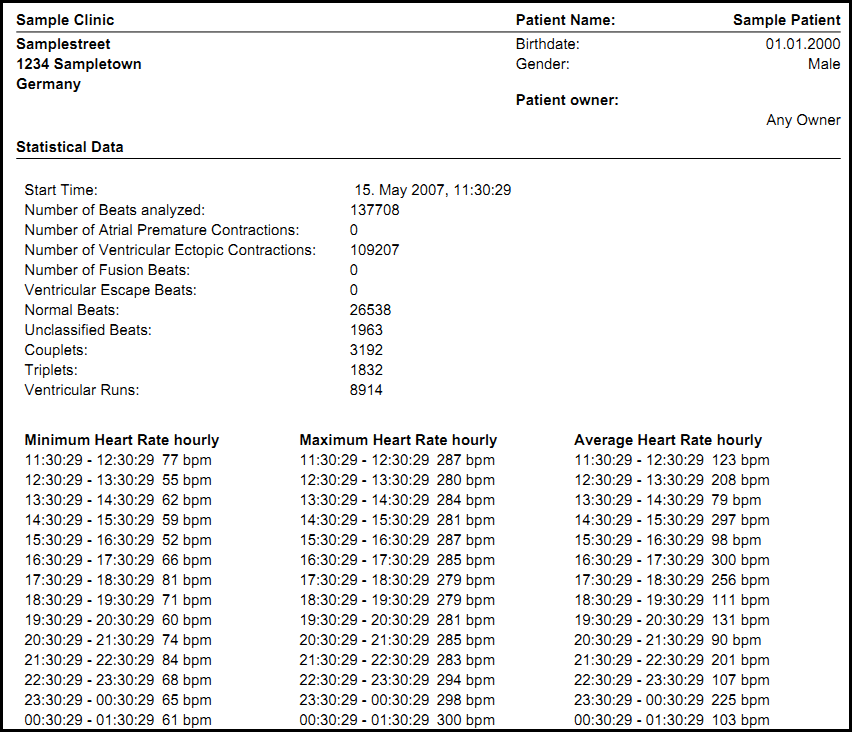 Dicom Option
Seamless integration into practice infrastructure using Dicom: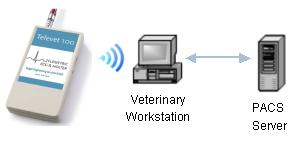 The Televet workstation can act as Dicom modality.
It seamlessly connects to a DICOM System (PACS server) using DICOM services, such as

Query/Retrieve
Modality Work list
Modality Performed Procedure Step

Export and Import of Dicom ECG Waveform files
Support of ECG Annotations
Optional ECG Viewer as plug-in into practice Management Systems
Software
Base Software Features
Windows based (XP Service Pack 2, Vista, Windows 7)
Easy patient and ECG management
Monitor (real-time) , record and review (offline) mode
Single Lead, Einthoven, Goldberger
Different filters(i.e. 50/60 Hz, AF)
Outside mode (optimal background color)
Acoustic heart beat signal
ECG "cut out & save" function
RR analysis
Heart rate graph
Configurable heart rate alarm limits
Overview mod, easy print function
Easy print function
Import, export and archiving of ECGs
Holter Analysis and Reporting for Small Animal
Automatic measurement of complex dimensions
Dicom Connector (optional)
Six Vector ECG Screen: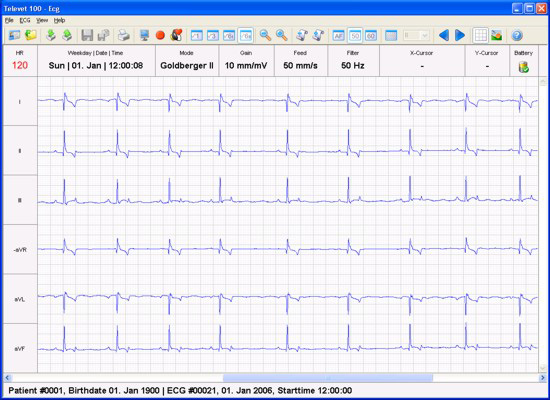 Files for this Product
There are no available files for this product.